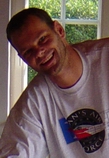 aviator at rv8r.de
My name is Dirk Schlichtenhorst an I live in the little town of Bohlsen (Pop. 532). It's some 4 miles away from Uelzen, where I work for the Deutsche Telekom. (Pop. 30.000 (Uelzen, not the Deutsche Telekom, won't hope that depression will hit that hard..))
Uelzen itself is located somewhere between Hamburg an Hannover in Northern Germany. It's a non-industrial landscape, some agriculture and a lot of forrest around us. It's hard to find work here, that's what it makes cheap to live and keeps the prices low. If you got work, it's a real nice place to be.

I'm 36, no, meanwhile 37 years old, ....born in 1966, married to my wife Andrea and we live in a house we built some years ago, so you can say, we both have reputation in long-term projects.
Before I started the RV, I spent my time restoring aircooled Volkswagens and I was hunting boars in the forrest around. Since I'm pounding rivets there is no room for my former passions, but my knowledge of the VW boxer-engine will come to favour somedays with those Lycomings, I think.